We Offer Non-Invasive Lipo Treatments in Greensboro Serving the Triad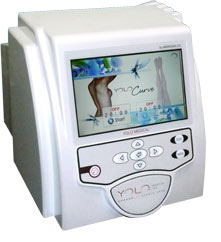 NuLazer Lipo has always been a fantastic treatment option, but with the introduction of the new NuLazer Curve machine, there are amazing new benefits! The new Curve machine has twice as many large treatment paddles, each with twice as many diodes. This makes the NuLazer Curve 400% MORE EFFECTIVE in a given treatment period than was the previous generation of NuLazer treatments. Because of this, 40 to 60 grams of fat is released in just 20 minutes of treatment, equalling 400-500 calories. That's up to 1,500 calories released in a single 1-hour treatment! Exclusively at NuBody Solutions, each NuLazer Curve Advanced treatment now also includes a whole-body vibration session. This additional service further stimulates the lymphatic system to help dispose of the fat and toxins released during the NuLazer Curve treatment.
Who can receive this treatment? ALL sizes! Ideal weight, Overweight or Obese
Cost: As low as $99
Technology Used: Low level laser
Effects: Shrinks fat cells with laser energy not heat
Depth of treatment: Subcutaneous fat about 5 mm below skin's surface
Areas treated: Spot reduction only
Toning: Does not tighten skin
Treatment Time: 1 hour
What to expect: You feel nothing
Recovery: No risks or downtime
Cool Sculpting
Who can receive this treatment? Must be within 10% of ideal weight
Cost: $750-$1,200 per spot treatment
Technology Used: Cryolipolysis
Effects: Destroys fat cells by freezing
Depth of treatment: Subcutaneous fat
Areas treated: Spot reduction only
Toning: No skin tightening
Treatment Time: 1+ hours
What to expect: Painful, requires numbing
Recovery: Numbness, tingling, possible nerve damage
As with any weight loss or body contouring program, always consult your physician prior to the start of the program.**
An added bonus... you can now Whiten Your Teeth while zapping the fat away with the NuLazer Curve!
How Does it Work?
NuLazer Curve paddles, containing laser diodes that emit a specific wavelength of light designed to target fat cells, are placed on the patient's skin. The trained NuLazer Curve technician repositions the paddles every 10-20 minutes. Laser energy safely and painlessly penetrates several millimeters into the tissue, making the fat cell walls permeable for a temporary period of time. Free fatty acids are released from the cells, reducing the size of the cells significantly and resulting in substantial body contour improvements and inch loss.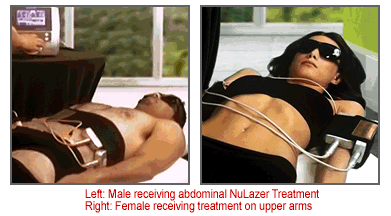 Is NuLazer Curve Safe?
Yes. NuLazer Curve treatments are completely non-invasive and clients feel nothing. This low-level laser technology has been studied and used for over 30 years for many biomedical purposes including wound healing, pain relief and inflammation.
What Happens During a Treatment Session?
Clients relax in a comfortable position while a trained NuLazer Curve technician secures two multi-laser paddles and two smaller lasers to the target areas for ten-minute intervals. Clients are free to relax, read, listen to music, or even nap during this treatment.
Skin Deep Benefits We're the Company That Cares
Need More Details
Contact Our Office
Whether you have questions or you're ready to get started, our team is ready to help. Complete our form or contact us today at 336-389-0001
long lasting results
5-Star Reviews
"Kristen that I have worked with mostly during treatments is so nice and knowledgeable! Highly recommend!"

Mary M.

"I recommend NuBody to anyone that is serious about a lifestyle change."

Rhonda P.

"I feel spoiled every time I visit!"

Beth L.